| | |
| --- | --- |
| Pediatric Radiation Oncology, Hardbound, 4rd Edition | |
| | |
| Edward C. Halperin, MD, Louis S. Constine, MD, Nancy J. Tarbell, MD, Larry E. Kun, MD | |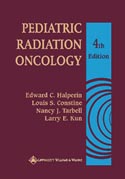 Description:
The definitive text and reference on pediatric radiation oncology is now in its thoroughly revised and updated Fourth Edition. This edition features a brand-new section on intensity modulated radiation therapy (IMRT), detailed information on three-dimensional treatment planning, and diagrams showing three-dimensional treatment plans for brain tumors, retinoblastoma, sarcomas, and neuroblastoma. The authors review the most recent clinical trials on management of leukemia, supratentorial and infratentorial brain tumors, retinoblastoma, neuroblastoma, Hodgkin's disease, non-Hodgkin's lymphoma, Ewing's sarcoma, osteosarcoma, rhabdomyosarcoma, and Wilms' tumor. This edition also includes new information on the late effects of cancer treatment and the risk of treatment-induced secondary malignant neoplasms.

Edward C. Halperin, MD, Louis S. Constine, MD, Nancy J. Tarbell, MD, Larry E. Kun, MD